Sunday, March 28, 2004
I don't care WHAT the doctor says...
Austrian Doc Encourages Nose-Picking
Recommend reading this AFTER you eat... serioiusly. And NEVER visiting Austria... especially if you have health issues. Just... ick.
Saturday, March 27, 2004
In case there is any doubt...
Calvin is my hero... Bill Watterson is a genius! BRING C&H BACK BILL!!! The world could use a good laugh about now...
Not much to report here. My mom finally managed to use her login to see the RyanCam... and she was just ecstatic. More accurate, "she's goofy", as Shelley put it... heh Anyway, hope everyone has a great day! Things are even more hectic than usual here, but in a few days things should calm down ...
Thursday, March 25, 2004
Random stuff...
As most of you may or may not know... I've had a few life altering events in my life over the course of the last year or so. Someone that didn't know me very well might accuse me of 'growing up', but those of you that DO know me know that's not very likely. However, that being said, I do feel a little less "lost". Not so much lost in the sense that I didn't know where I was, but at a loss for what to do next. I had gone through so many false starts that I just seemed to be stuck, and had no clue what direction to try next, and had nearly NO motivation to even TRY. Needless to say, that changed; I made some extreme choices, and the next thing you know, I'm halfway around the world, and expecting our first child... To say that my life has been a whirlwind in the past 20 years would be a good contender for "Understatement of the Year". Anyway... the main purpose of this post is to let you know of some recent realizations I've made, and my reactions to them. First, is my realization that I truly would like to learn more about the culture around me. I deal with the
Arabic culture
nearly every day, and would like gain a better understanding of it. I was at the airport last night, dropping off one person, picking up another, and watched the different nationalities greeting people as they arrived. Most obvious is the things these people due to greet loved ones and acquaintances: the Arabic check-to-cheek (left-right-left), or hug/belly bump (same order:left-right-left), and another one I had never seen before; I think they were Indian or maybe Sri Lankan; they would shake hands, then touch their heart. I watched a group of young men meet another as he came down the walkway, and they all took turns in this greeting. So what I've decided to do is try to actually learn the Arabic language a bit. I can mutter my way through basic greetings, and a thank you here and there... but nothing really conversational. So I've picked up some software and audio CDs... I'll let you know how this goes... Secondly is I've decided to get back in to
Tai Chi
. I started doing this many years ago when I broke my shoulder... I was doing basic movements while in a swimming pool... then again a few years when an instructor needed a website. He offered free classes for me, but I was never able to attend, due to my hectic schedule. However, both of these brief forays into this martial art really made me want to learn more. I've been putting it off for years, so it's time I "just did it". Well, this is the longest post I've managed in a long time, but I've got to cut it short. I've been uploading and organizing pictures at the
Gallery
, and I'll harass Shelley into uploading anything she's got as well.
Monday, March 22, 2004
It's a beautiful day...
... well, there are a lot of things that could be different that would make it MORE beautiful, but this morning when I got up, and saw the sun rising over the water, I just thought I should share it with all of you... The full size pics of these can be found in the
Kuwait photo album
...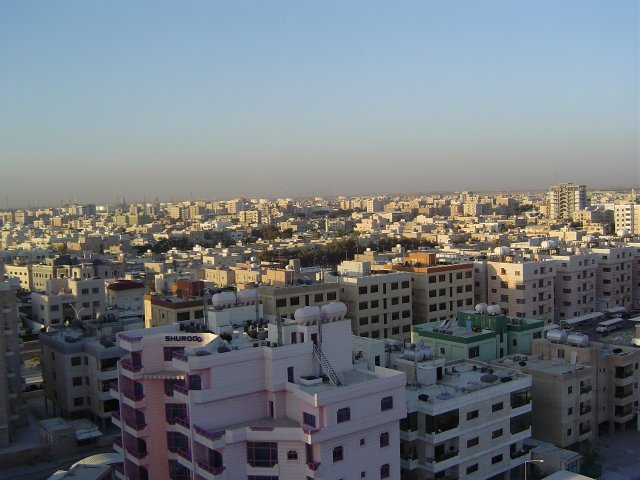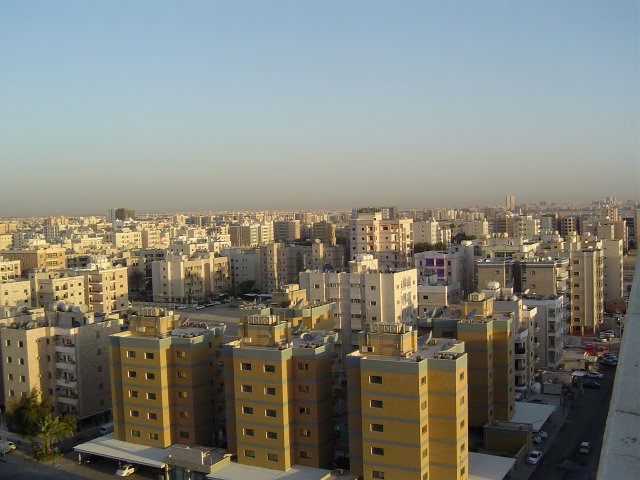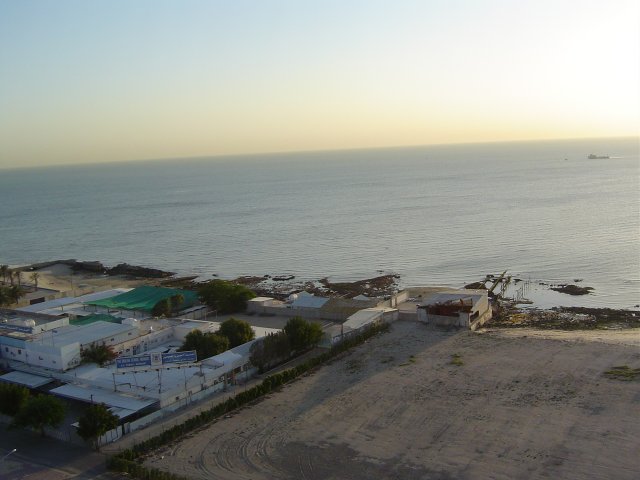 I've also started a
RyanCam Album
, which is just a bunch of assorted pics from the camera I was talking about. In case I haven't adequately described this thing: it's basically a webcam that I can view and control over the Internet from anywhere in the world. It allows me to see Ryan and Shelley pretty much whenever the urge hits me.
Saturday, March 20, 2004
Hey... there's MUNCHKINS in my house!!!
I checked the RyanCam... and THIS is what I see!!!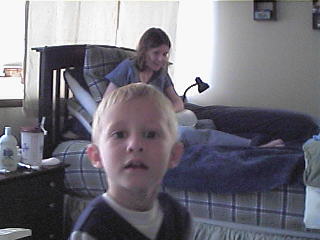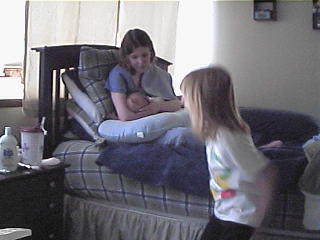 I had BOTH of them on there at the same time, but missed the snapshot button! :) For those of you that don't know, that's my niece and nephew, visiting Shelley and Ryan... along with Grandma, and her Sister ... think they dragged Steve along too... HEY... got all them!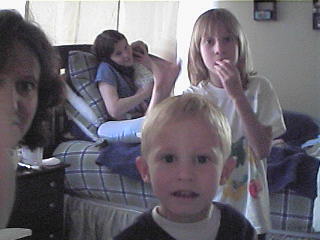 Wednesday, March 17, 2004
Yet another Firefly reference
I found another website that is just now getting into the "Firefly" thing... Check them out at
http://pvponline.com
. It's a bit like the Penny Arcade site, in that it has good artists and gaming information. Well, life hasn't slowed down much here. Shelley has been uploading pictures, I just need to get them into albums for you all to see. I will do that soon, I promise... Gotta run! More later! Love to all! PS. I was playing around with some software today, so Shelley can start making use of the photo printer. What do ya think?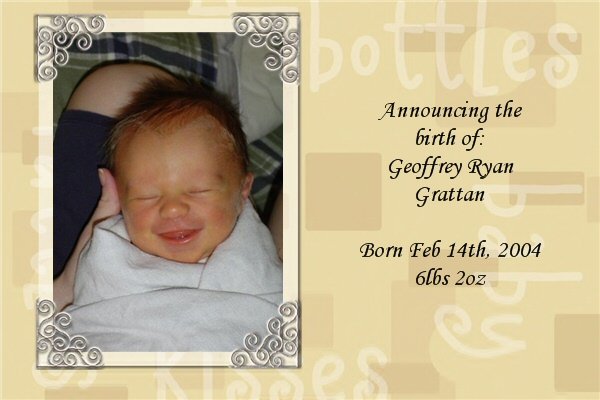 Sunday, March 14, 2004
Missing in action?
Hard to believe I've only been here a week. It's been a blur of activity, and whenever things slow down all I want to do is sleep. I've barely had time to do much of anything other than those two things: work and sleep. Shelley is uploading new pictures, and finding all the ones I put on the computer at home (but forgot to upload). I'll get those uploaded too, since I know there are a lot more that haven't found their way online yet. Like the ones of my mom (who wants to be called "Nana") with Ryan, and Jessica (Shelleys' friend and my stand-in Lamaze coach). We'll find them, I promise! That's all for now, talk to you soon! Love to all!
Sunday, March 07, 2004
United Airlines sucks - Technology ROCKS!
So, due to a series of screwups by UA, I'm sitting in Denver Airport, in a sports bar, checking on my new-born son via the 'net. How's that for technology?
I don't know when I'll have 'net access again, might be tomorrow, might be Tuesday... might be next week. :) I'll get the pictures uploaded when I know more, and I'll train Shelley to upload her pictures on a regular basis too.
I'm flying out to NJ today, then on to Kuwait tomorrow. I've got some new pictures to post, but I probably won't be able to upload them until sometime later this week. Thanks again to everyone for sending well-wishes and other great things to us and the little two-footer. It's been a great help! Love to all!